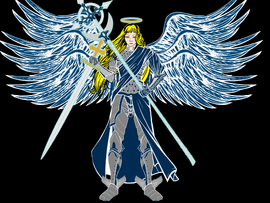 Yahoel (or Iaoel) in the Apocalypse of Abraham is the mighty angel sent to guide Abraham. Yahoel introduces himself as a being possessed of the power of the Ineffable Name "whose name is like unto that of God Himself". As the angel nearer to God, or perhaps as a manifestation of the power of God himself, Yahoel is said to be also the heavenly choirmaster, the one who teaches the angels their hymn, who has the control over "the threats and attacks of the reptiles", the angel with the chief task of protecting and watching over Israel. These functions were traditionally ascribed to Michael and mark the gradual transformation of Michael, originally the guardian angel of Israel, into Metatron. Yahoel's body is depicted as being like sapphire, his face like chrysolite, his hair like snow, his turban like the appearance of the rainbow, and his garments as purple, with a golden sceptre is in his right hand. Iaoel and Yahoel have been used also as alternate names for Metatron.
Community content is available under
CC-BY-SA
unless otherwise noted.