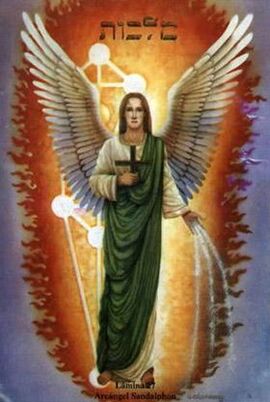 Sandalphon (Hebrew: סָנְדַלְפוֹן; Greek: Σανδαλφών) is an archangel in Jewish and Christian writings. Sandalphon figures prominently in the mystical literary traditions of Rabbinic Judaism and early Christianity, notably in the Midrash, Talmud, and Kabbalah.
Angelic & Planetary Correspondences
Edit
Name of Planet under rulership: Earth.
Symbol: See above.
Name of Planet in Hebrew: Eretz.
Teaching Angel: Archangel Sandalphon.
Also Know As: Sandolphon, Sandolfon.
Correct Pronunciation: San-DAL-Fon.
Celestial Title: Messiah.
Tradition - Angel identified in: Jewish, Kabbalistic.
Hebrew Name: Sandalphon.
Hebrew Letter. Not identified.
Egyptian Name: None identified.
Station: Cherubim , Teaching Angel also thought to be a Sarim or Angelic Prince. Kabbalistic Tradition: 'Asheem'.
Ruler of: Not identified.
Gardian Angel of Planet: Archangel Lumiel.
Geek/Roman God of Planet: Not identified.
Metal: Not identified
Day: Any Day of the Week.
Hours of Day Ruled: Any hour.
Month: All.
Cycle of Days: 12 months.
Orbit: 12 months.
Fixed Stars: Not identified.
Days to Avoid Working with Archangel Sandalphon: Not identified.
Exaltation: Not identified.
Depression: Not identified.
Fall: Not identified.
Gems: Turquoise, Smokey Quartz.
Ritual Candle Color: White.
Planetary Color: Brillient White
Harran / Hermetics Colors: Not identified.
Complimentary Color: Black.
Symbol: The Altar of the Double Cube, The Equal Armed Cross, The Mystic Circle, The Triangle of Art.
Tarot Card: The Four Tens / Pages.
Planetary Number: Not identified.
Talisman Sides/Size: 6.
Numbers of Earth: 0, 9, 20.
Musical Note: Not identified.
Direction Ruled: Centre.
Degree: Not identified.
Angelic Thought-form: Young Woman Crowned.
Fruit: Lemon.
Tree: Lemon Tree, Willow.
Flower/Herb: Carnation, Lilly, Ivy.
Insect: Not identified
Animal: Not identified
Anatomy Governed: Consciousness, Agressive tendancies. Life, Prayer.
Astral Colour's: Not identified.
River Ruled: Not identified.
Letter Composition: Not identified.
Magical Script: Not identified.
Planetary Spirit: Not identified.
Planetary Intelligence: Not identified.
Olympic Spirit: Not identified.
Demon of the Day: Not identified.
Community content is available under
CC-BY-SA
unless otherwise noted.