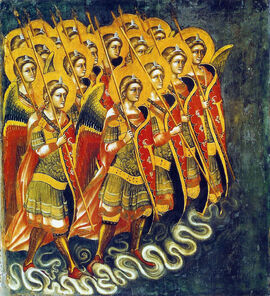 The "Powers" (lat. potestas (f), pl. potestates), or "Authorities", from the Greek exousiai, pl. of exousia (see Greek root in Eph 3:10). The primary duty of the "Powers" is to supervise the movements of the heavenly bodies in order to ensure that the cosmos remains in order. Being warrior angels, they also oppose evil spirits, especially those that make use of the matter in the universe, and often cast evil spirits to detention places. These angels are usually represented as soldiers wearing full armor and helmet, and also having defensive and offensive weapons such as shields and spears or chains respectively.
The Powers are the bearers of conscience and the keepers of history. They are also the warrior angels created to be completely loyal to God. Some believe that no Power has ever fallen from grace, but another theory states that Satan was the Chief of the Powers before he Fell (see also Ephesians 6:12). Their duty is to oversee the distribution of power among humankind, hence their name.
Community content is available under
CC-BY-SA
unless otherwise noted.