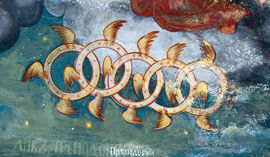 The ophanim or ofanim (Heb. "wheels" אוֹפַנִּים 'ōphannīm; singular: אוֹפָן 'ōphān, ofan), also called galgalim (galgallim, גַּלְגַּלִּים - "spheres", "wheels", "whirlwinds"; singular: galgal, גַּלְגַּל), refer to the wheels seen in Ezekiel's vision of the chariot (Hebrew merkabah) in Ezekiel 1:15-21. One of the Dead Sea scrolls (4Q405) construes them as angels; late sections of the Book of Enoch (61:10, 71:7) portray them as a class of celestial beings who (along with the Cherubim and Seraphim) never sleep, but guard the throne of God.
These "wheels" have been associated with Daniel 7:9 (mentioned as galgal, traditionally "the wheels of galgallin", in "fiery flame" and "burning fire") of the four, eye-covered wheels (each composed of two nested wheels), that move next to the winged Cherubim, beneath the throne of God. The four wheels move with the Cherubim because the spirit of the Cherubim is in them. The late Second Book of Enoch (20:1, 21:1) also referred to them as the "many-eyed ones".
For some the Ophanim are equated to the "Thrones" in Christianity.
Community content is available under
CC-BY-SA
unless otherwise noted.