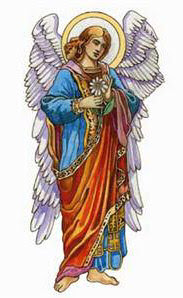 Muriel, whose name is derived from the Greek myrrh, is a Domination or Dominion (one of the 'Second Sphere' Angels) in Western Christian Angelology. Muriel is the Angel of the Month of June, is associated with the astrological sign of Cancer, and is invoked by the South.
(Also known as, -insert other names here-)
Zodiac Position: Cancer
June
Tarot Card:
Planet:
Element:
Candle Color:
Plant:
Metal:
Rank: Dominion
-
Meaning of the Name: (insert translation)
Specialty: (insert what he can do to help you)
Aura Color: (insert aura color)
Related Crystal:
Community content is available under
CC-BY-SA
unless otherwise noted.