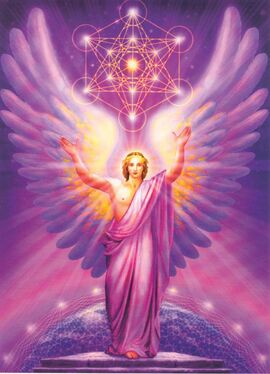 Metatron (Hebrew מטטרון; prob. derived from the Latin mētātor: "one who metes out or marks off a place, a divider and fixer of boundaries", "a measurer", although several other suggestions exist) or Mattatron is an archangel in Judaism and known in Judaism as the Recording Angel or the Chancellor of Heaven (which makes Adramelech his infernal counterpart). The name Metatron is not mentioned in the Hebrew Bible, nor is it mentioned in the early Enoch literature. How the name originated is a matter of debate. Although Metatron is mentioned in a few brief passages in the Talmud, he appears primarily in mystical Kabbalistic texts within the Rabbinic literature. In that tradition, he is the highest of the angels and serves as the celestial scribe or "recording angel".
According to Jewish apocrypha, Metatron is the name Enoch received, after his transformation into an angel. The book of Genesis (5:24) is often cited as evidence of Enoch's bodily ascension into heaven: "And Enoch walked with God: and he was not; for God took him."
Angelic & Planetary Correspondences
Edit
Community content is available under
CC-BY-SA
unless otherwise noted.